Swather tines
Swather tines from agricultural specialist AgriSpring
Are you looking for the best quality swather tines? Then you have come to the right place on the website of agricultural specialist AgriSpring. DTV AgriSpring has over fifty years of experience in producing the best agricultural agricultural springs. We are a leading manufacturer and we are a supplier of springs for agricultural machines as well as for such industrial applications. At AgriSpring we are constantly innovating, improving and expanding the agricultural spring production process to continue to deliver top quality springs at the best prices. Are you interested in the swather tine of agricultural specialist AgriSpring? Then read on or view our range of swather tines.
All agricultural springs including swather tines can be ordered from agricultural specialist AgriSpring
You can be sure that you are getting the highest quality agricultural springs when you order your agricultural springs from AgriSpring. Our agricultural springs are made of high-quality steel and we only use certified raw materials. All parts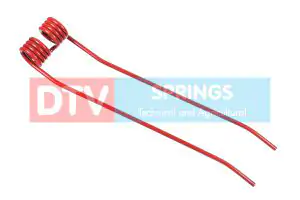 and documents provided on our website are designed to at least meet Original Equipment Manufacturer (OEM) specifications. All swather tines that we sell can be found in our webshop by clicking here. You will find the characteristics and properties of a particular swather tine on the respective product page.
More information and contact with AgriSpring
All information about AgriSpring and our products can be found on our website. In addition to supplying standard springs, we also provide customization, based on the specifications you provide. Almost all agricultural springs are immediately available from stock. If necessary, it is also possible to request an urgent person to have the agricultural feathers shipped the same day. Do you have any other questions, comments or ambiguities? Then contact us. You will find all our contact details at the bottom of the page or on the contact page. Send an email to info@dtvsprings.nl or call us on +31 514 568 100. We are happy to help you. You may be interested in our Facebook page for the latest news from DTV AgriSpring!