Springtines from Agrispring
Purchasing springtines from Agrispring
Agrispring is the right place for springtines made of high-quality steel of the best quality. Agrispring has more than fifty years of experience and delivers reliable and specialized custom work. At Agrispring there is a constant drive to expand and innovate its production process in order to deliver top quality products. And this for very competitive prices. In addition to the standard springs, Agrispring also supplies custom work. The spring is made by the specified characteristics. You will find various springs on our website. For our catalogue you can look here.
Range of springtines at Agrispring
Agrispring offers a wide range of agricultural teeth and springs. For example, we have rake tines, harrow tines, pick-up and reel tines and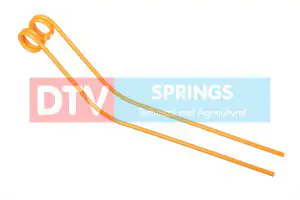 even more. All spring tines that you can find on our website are made of the best quality. For example, documents and parts on Agrispring.com are designed in such a way that they at least meet the specifications of the OEM. In the description of the springs on our website you can see for which machine they are suitable. Do you see a springtine that you would like to order? Then you can add it to the quotation request on the relevant product page. At Agrispring we ensure that the spring tines are delivered quickly. In general, all springs from the stock are immediately available. If necessary, we can send urgent orders on the same day of the request for quotation.
More information
For all information about Agrispring springtines, please consult our website. You can also view our products for other agricultural springs. We try to answer your quote request as soon as possible. Do you have further questions? Then you can always contact us. You can fill in the contact form, or leave your name and number so that we can call you. We would like to help you.