Rotary tedder tine
Rotary tedder tine from Agri Spring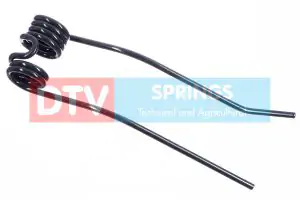 Are you looking for the highest quality agricultural springs for very competitive prices? Then you have come to the right place at specialist Agri Spring. Agri Spring is a recognized specialist in the field of agricultural springs throughout Europe. We have more than fifty years of experience and are now a leading manufacturer. We are a supplier of agricultural springs for agricultural machines as well as for industrial applications. For our industrial springs, please visit our other website DTV Springs. At Agri Spring you will find many different springs, including rotary teder tines, harrow tines, rake tines, pick-up and reel tines and much more. Thanks to our many years of experience and the continuous improvement and innovation of our production process, we can now offer our customers a great price-quality ratio. Would you like to know more about the rotary tedder tine that you can order on our website? Then read on, or take a look at our webshop.
Order a rotary tedder tine of the highest quality from the recognized specialist Agri Spring
You can find all the agricultural springs that we have in our range in the catalog, by clicking here. You can easily filter between the different agricultural springs that we have. On the page of an agricultural spring you will see all the specifications and its compatibility. Most agricultural springs are in stock with us and immediately available. That is why you can count on us for very fast delivery times. We also do urgent orders, which are shipped the same day. In addition to the standard springs that you see in our webshop, we can also make custom technical and agricultural springs. You can leave the specifications via the contact form on the contact page. You can also contact us here for all your questions. We are happy to help you further. You may be interested in our Facebook page.