Buying agricultural springs from AgriSpring
At agricultural springs factory AgriSpring we believe for more than 50 years in close cooperation with our customers. AgriSpring is your specialist in designing and making technical springs. With more than fifty years of experience, we ensure solid customization in the production of technical springs. This makes us the agricultural spring factory in the Netherlands. If you are looking for agricultural springs no matter what brand, size, color then you are at the right place at AgriSpring' spring factory. For all your questions about agricultural springs, please contact us. In addition to our standard agricultural springs, you can also order custom-made agricultural springs.
As one of the largest agricultural companies in the Netherlands, we are constantly innovating and expanding our production. We go beyond just delivering agricultural springs. In addition to producing agricultural springs and regularly recurring orders, we mainly work in our modern factory on tailor- made solutions for our customers. We are happy to take on every challenge in the spring technical field with you. Our team makes our own choices and puts the realization of a working solution in advance and in cooperation with you.
Steel springs from AgriSpring
At AgriSpring you can buy steel springs and we have made it easy for you to find exactly what you are looking for in the online store. We have one of the most large stocks of steel springs. This allows you to buy different steel springs. We supply to individuals and companies. If you are unable to find the right spring in our range, you can always contact us.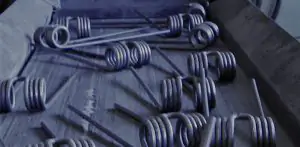 AgriSpring is a steel spring factory and specializes in the fast delivery of custom steel springs.You can come to us for both larger series and for the production of some springs and we have an extensive program of pressure springs, migratory springs, leaf springs, torsions and wire springs. We also have many more types of springs in our range.