Agricultural springs the Netherlands
AgriSpring is your specialist in the design and production of agricultural springs. With over fifty years of experience, DTV AgriSpring is thé agricultural spring factory in the Netherlands. If you are looking for agricultural springs regardless of spring type, then AgriSpring spring factory is the right place. All AgriSpring employees are absolute experts in their work.
Agricultural springs export company the Netherlands
In addition to designing and manufacturing agricultural springs, we are also a European export company that supplies technical springs throughout Europe and Canada. AgriSpring is usually seasonal. Many springs find their way in the various machines for agriculture, arable farming, horticulture, fruit growing, greenhouse construction and animal husbandry. In order to be able to respond properly, we ensure that we always have stock for you for the products you need.
This consists of a very wide product range and therefore good logistics facilities are our requirement. Both the control of our products, production process as the disciplined working in the office. This allows us to assure you of a fast delivery. At the same time, we are always ready to think along with you and to go through that extra step to support you, even in an emergency. Not only because of our experience and our complete product range, but mainly because of our good service. We strive emphatically to provide you with the best service imaginable.
Please take a look at our product range for: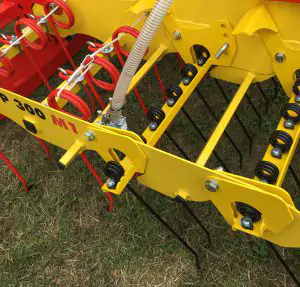 And much more!
Why DTV AgriSpring agricultural springs?
Top quality springs!
The agricultural springs of AgriSpring are made of high quality so that you are always guaranteed of good products. The springs are made exclusively with certified base materials.
Fast delivery!
Many of our agricultural springs in the webshop can be delivered from stock. Rush orders can usually be shipped the same day.
Good service!
AgriSpring is constantly expanding its production process and innovating to stay ahead in the production of top quality springs at very low prices.
Custom made!
In addition to our standard designs, we are an excellent partner for producing custom made models.